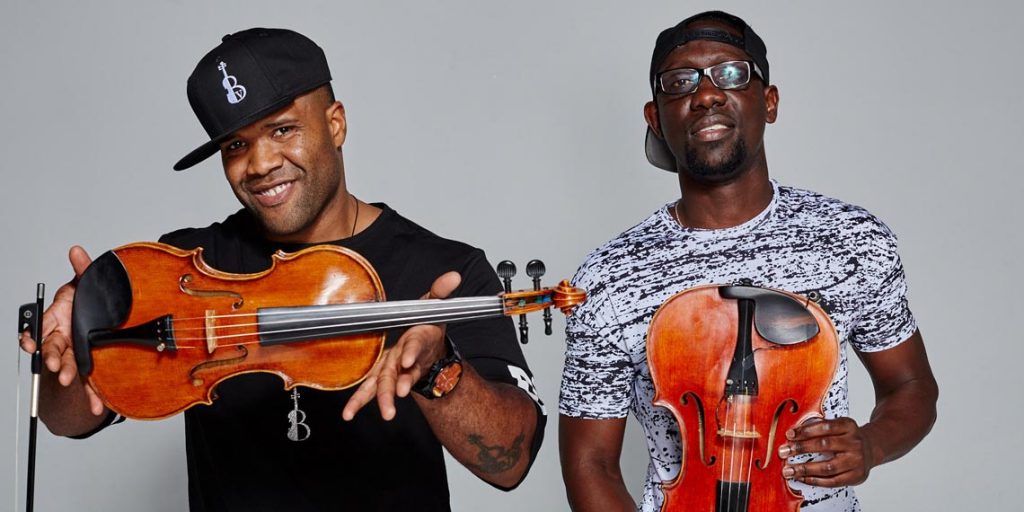 After three years of piano lessons, my daughter decided she wants to pick up a violin. Well, I take that back–she really wanted to play the violin when she started her lessons in kindergarten. But buying a $60 used keyboard was better for my budget. I wanted to ensure she didn't drop out before I made a major investment. She hasn't changed her mind and wants to change instruments. So, this week, we researched violins and people who played them. Unfortunately, our Google search resulted in mostly white violinists. But if you look closely, on the last row in the images, you'll spot Black Violin–a violin due made up of Wil Baptiste and Kev Marcus who distinguished, genre-bending sound has often been described as a classical boom.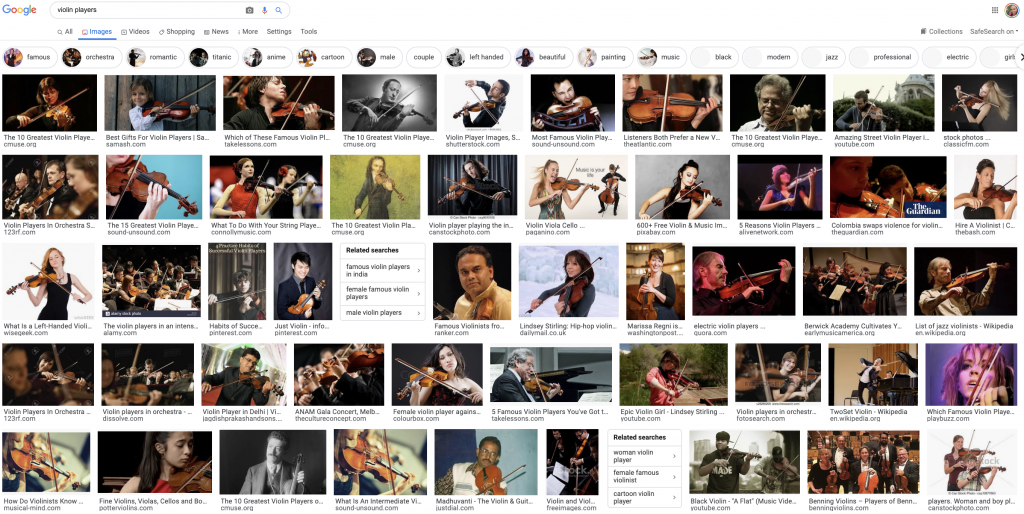 Black Violin, who collaborated with well-known names such as Kanye West, Wyclef Jean, Lil Wayne, and Alicia Keys, will perform in Pittsburgh next week. Click here for all the details! I had a chance to catch up with Kev Marcus to ask why he fell in love with the violin and what more Black children should do the same.
When most people picture violin players, unfortunately, Black men don't come to mind. Why is it important to change this image and create a new narrative?
As a young black violin player, I always looked at the lack of black string players as an opportunity to infuse my culture with classical music.  The narrative we are trying to create isn't about the violin. We want people to think outside the box, go against the grain, and do things that people haven't done before. 
What advice would you give moms about connecting kids to music? Why should they consider violin lessons?
Growing up, my mother put me in a Saturday morning string class and I took a liking to it.  She didn't badger me to practice or put unrealistic goals on me. She simply allowed me to try multiple arts and disciplines and I fell in love with music.  The best advice I have is to allow your child to try many arts, sports, and hobbies and hopefully they will find their passion. If they seem to take a liking to the violin for instance, then push them and give them everything you can to allow them to realize their dream.  Ultimately, it's up to the student to give the effort and they tend to try more when they really like what they are doing.
Sometimes money is a barrier to music. Any tips for moms who want their children to play an instrument but are concerned about the cost?
First, I'd say you should rent an instrument before you buy one.  I know so many people that have their kids old violins in their closet because they decided to buy a violin and the kid fell out of love with it.  Secondly, group classes are just as important as private lessons, if not more so. In an orchestra class, a kid can make friends, gain confidence, learn from others, and succeed as a team.  Private lessons are also important to teach the nuances of the instrument, but group classes are usually more fun and social. And group classes tend to be cheaper.  
How has playing the violin impact your life? Others?
The violin has given us a platform to blend our creativity with our message of unity and hope.  Every time we go on stage, we have the opportunity to do what we were born to do—Change people's perception of what is possible.
Why should families attend Black Violin?
A Black Violin concert is an experience like no other.  It is built for kids, parents and grandparents alike to enjoy music and light show that blends classics like Mozart, Beethoven, and Vivaldi with pop tunes from Bruno Mars, Billie Eilish, and Cardi B.  All the while, we weave the message of thinking differently, working hard, and finding your passion throughout every note.
Tickets, starting at only $25, are now on sale! Don't miss the show. Visit TrustArts.org or call 412-456-6666 to purchase a pair.
Single Mom Defined received two tickets to attend Black Viol
i
---
Not long ago, Heather Hopson lived in the Cayman Islands and hosted a television show. Today, she's back home in Pittsburgh writing a different type of story as the founder of Motor Mouth Multimedia and Single Mom Defined. Utilizing more than a decade of television news reporting experience, Heather assembles teams to tell diverse stories, provide unique perspectives, and increase the visibility of important issues for local and national clients. In 2018, Heather, inspired by her daughter, produced Single Mom Defined, a photo essay and video series that provides a more accurate definition of single Black motherhood than the one society presents.
Heather obtained a BA in Journalism from Michigan State University, where she served as president of the Delta Zeta Chapter of Alpha Kappa Alpha Sorority, Inc.
All author posts