Imagine googling yourself and having the worst words and descriptions you could possibly imagine had been written to describe you. Things that were so shameful and saddening you wouldn't even want to tell anyone you'd found them. Just a few years ago, if you were to Google "single Black moms are…" you would get a variety of responses. Some of them were surprising, some of them discouraging, and many of them downright disparaging. They were the kinds of definitions no mother would want to have described her. Or describe the strength of her parenting skills. 
Those exact results are what Single Mom Defined founder Heather Hopson saw when looking for a boost of confidence after suddenly facing the prospect of single motherhood. It was unnerving, like a sudden gut punch, for a Black mother embarking on a new journey and looking for support to see words like "damaged goods" and "selfish" to describe Black single moms–the very thing she was about to become. 
Single Black Moms Are…
A Turning Point

But that's when the spark of genius struck Heather to turn her anger into action and create a destination where single moms would define themselves. The results would be inspiring, empowering, supportive, and, most importantly, more accurate. Every day, single Black mothers move through the challenges and trials of solo parenting to raise incredibly resilient, intelligent, and powerful children who positively impact the world. And that was a story she knew needed to be told. 
"Fearless in the face of adversity." – Ardana J.
What started as a photo essay and video series in which 50 mothers wrote their definitions of single parenting and children described their single mothers using words like joyous, kind, phenomenal, and affectionate has now evolved into an online destination that elevates the voices of single mothers and redefines public perspectives. 
Rewriting the Narrative
We took some time to revisit those empowering definitions that show single Black moms are indeed superheroes. For the ways, they support themselves, their children, and often even their extended families. Here are a few of our favorite ways the moms we asked described themselves. We hope these definitions create a protective bubble of positivity around your heart. When the world tries to make you believe you're anything less than worthy. 
Single Black Moms Are – Quotes From Single Moms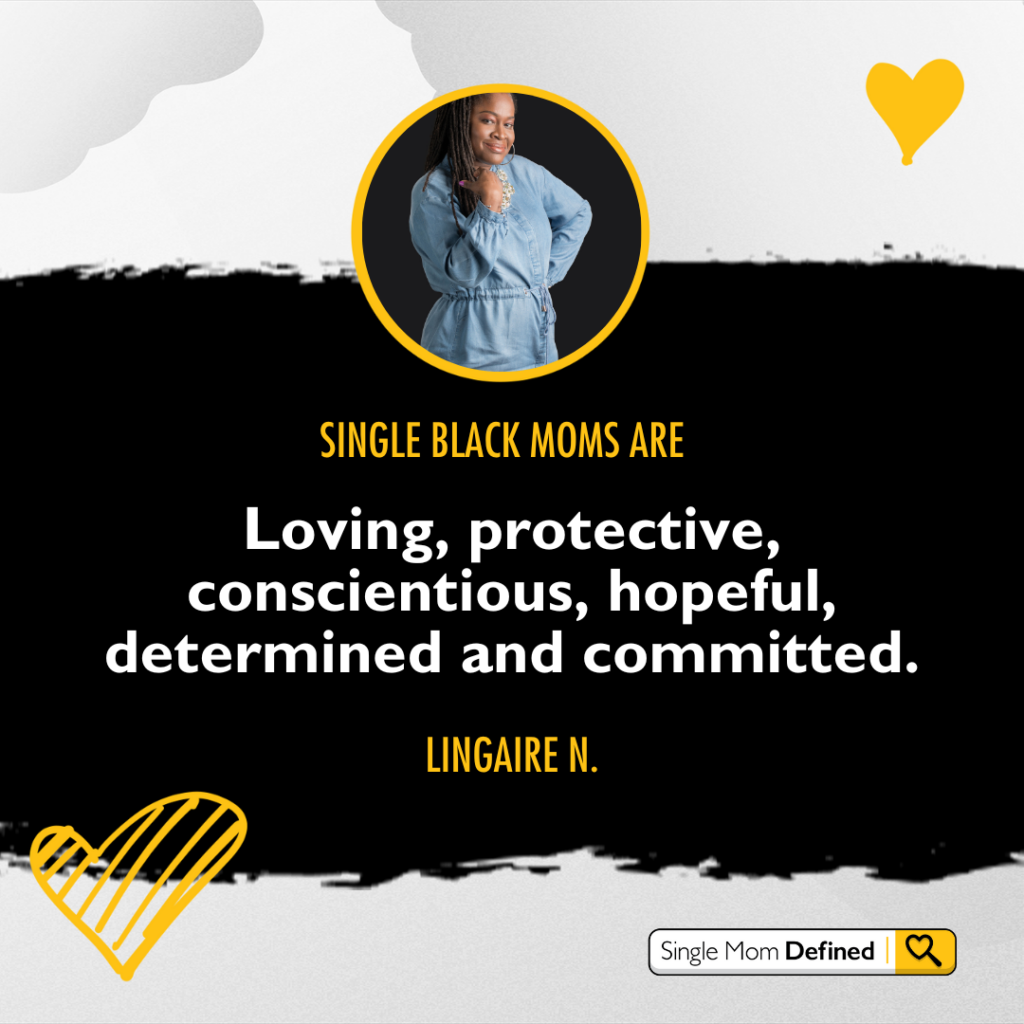 "Loving, protective, conscientious, hopeful, determined and committed." – Lingaire N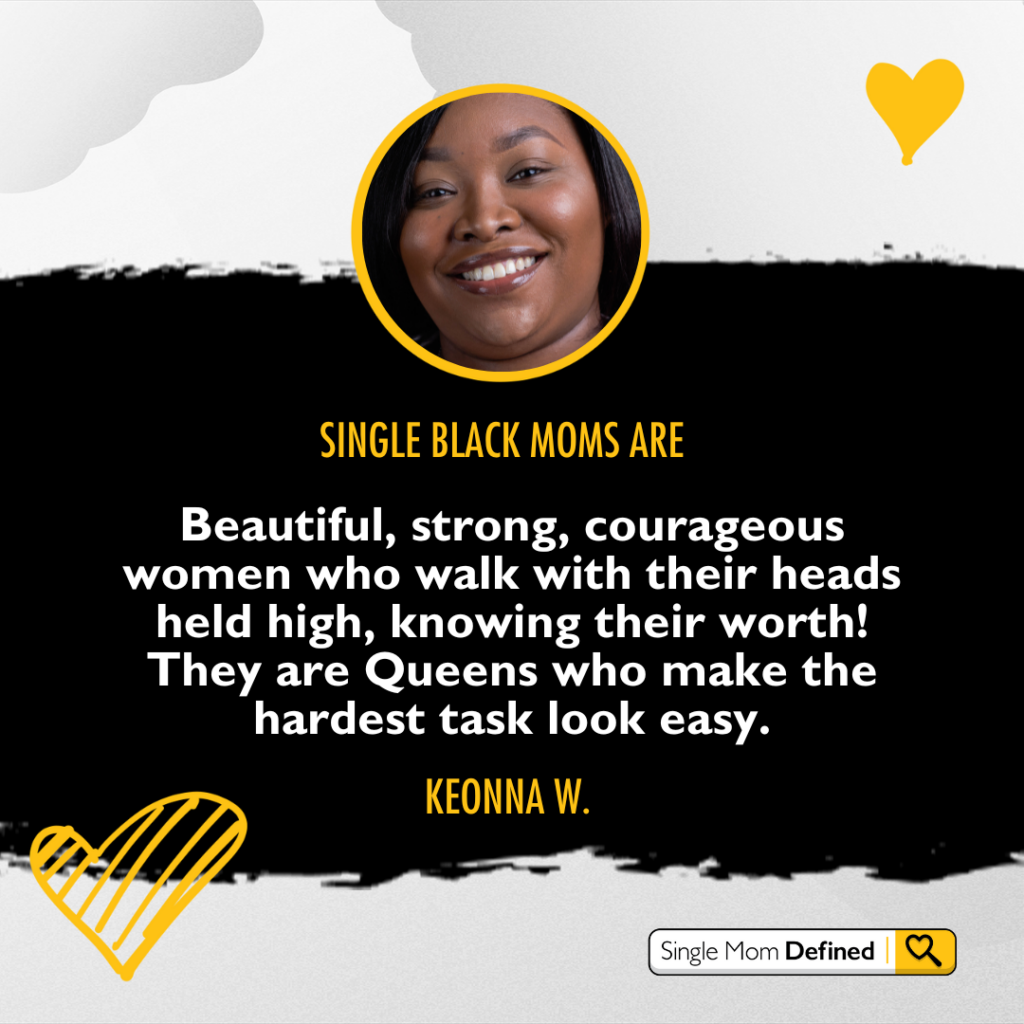 "Beautiful, strong, courageous women who walk with their heads held high, knowing their worth! They are Queens who make the hardest task look easy." – Keonna W.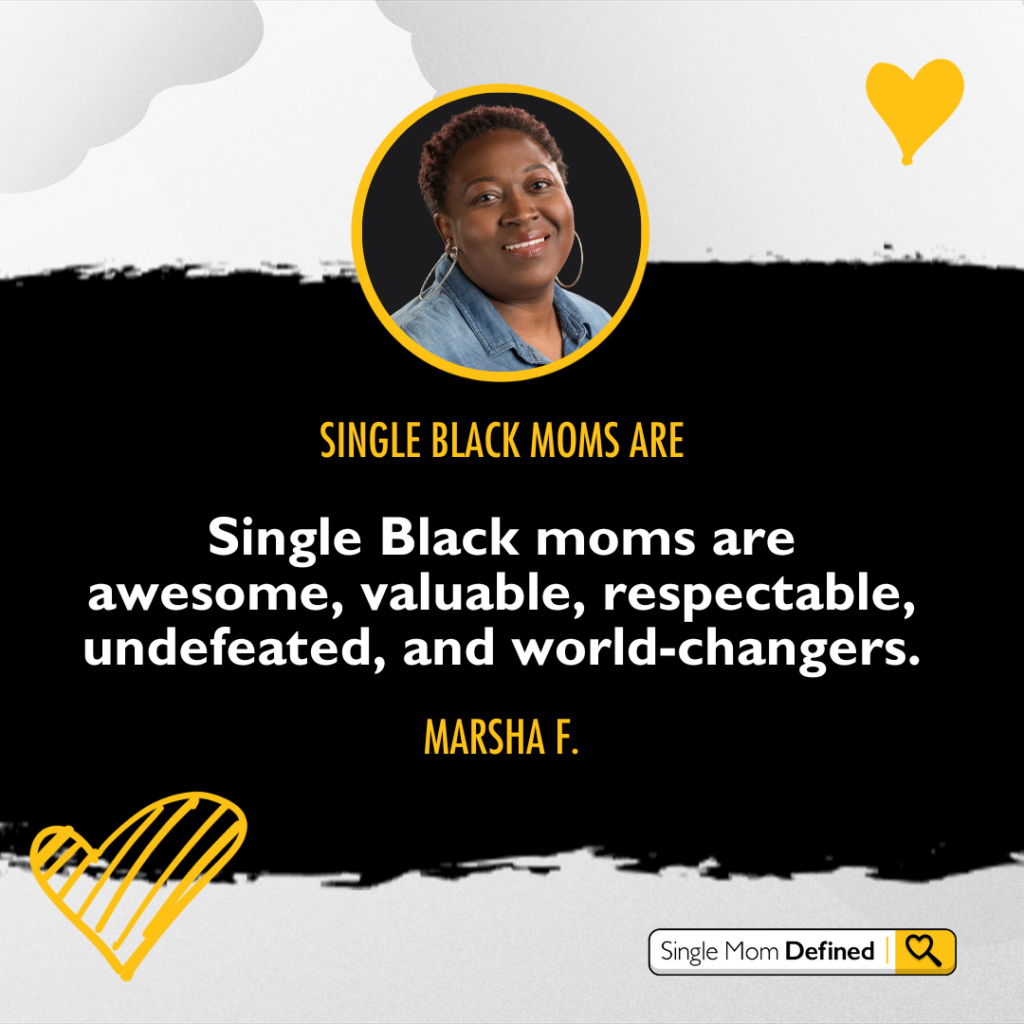 "Single Black Moms are awesome, valuable, respectable, undefeated, and world-changers.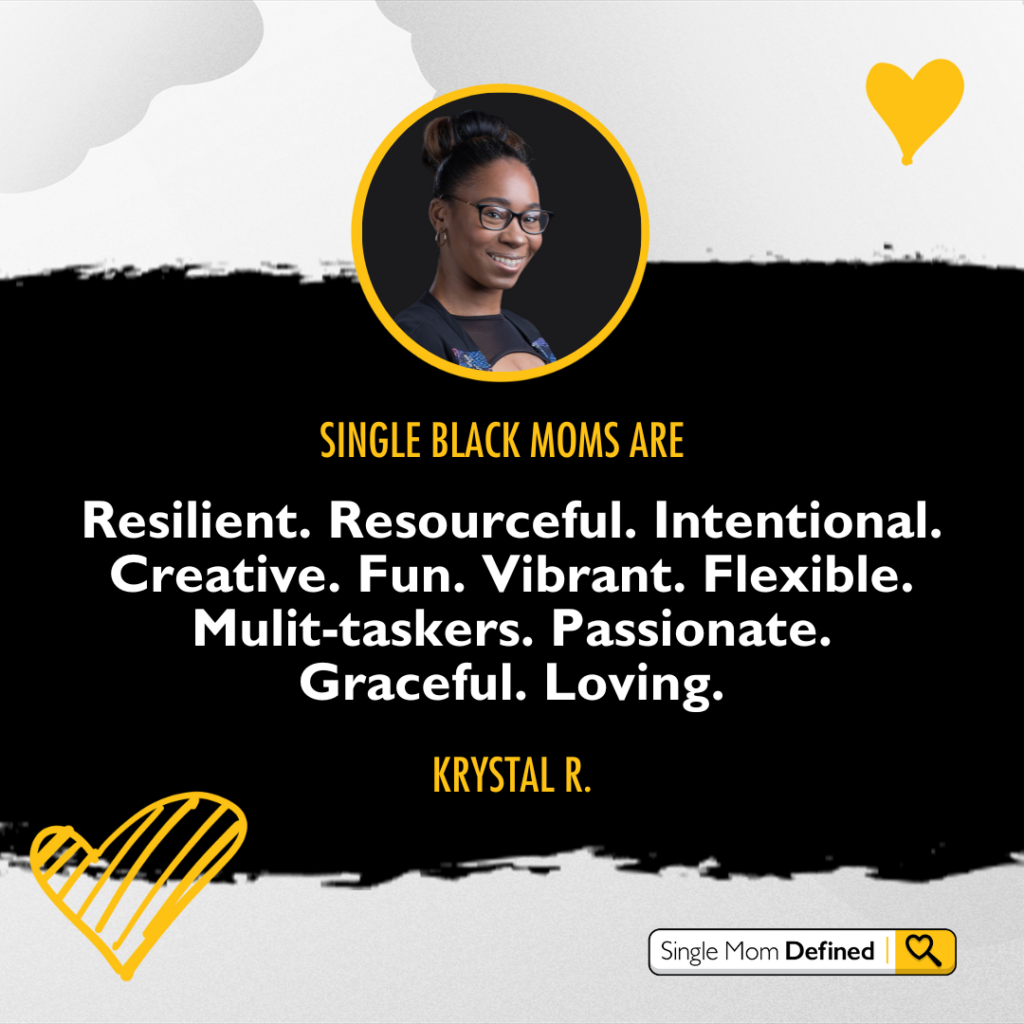 "Resilient. Resourceful. Intentional. Creative. Fun. Vibrant. Flexible. Mulit-taskers. Passionate. Graceful. Loving."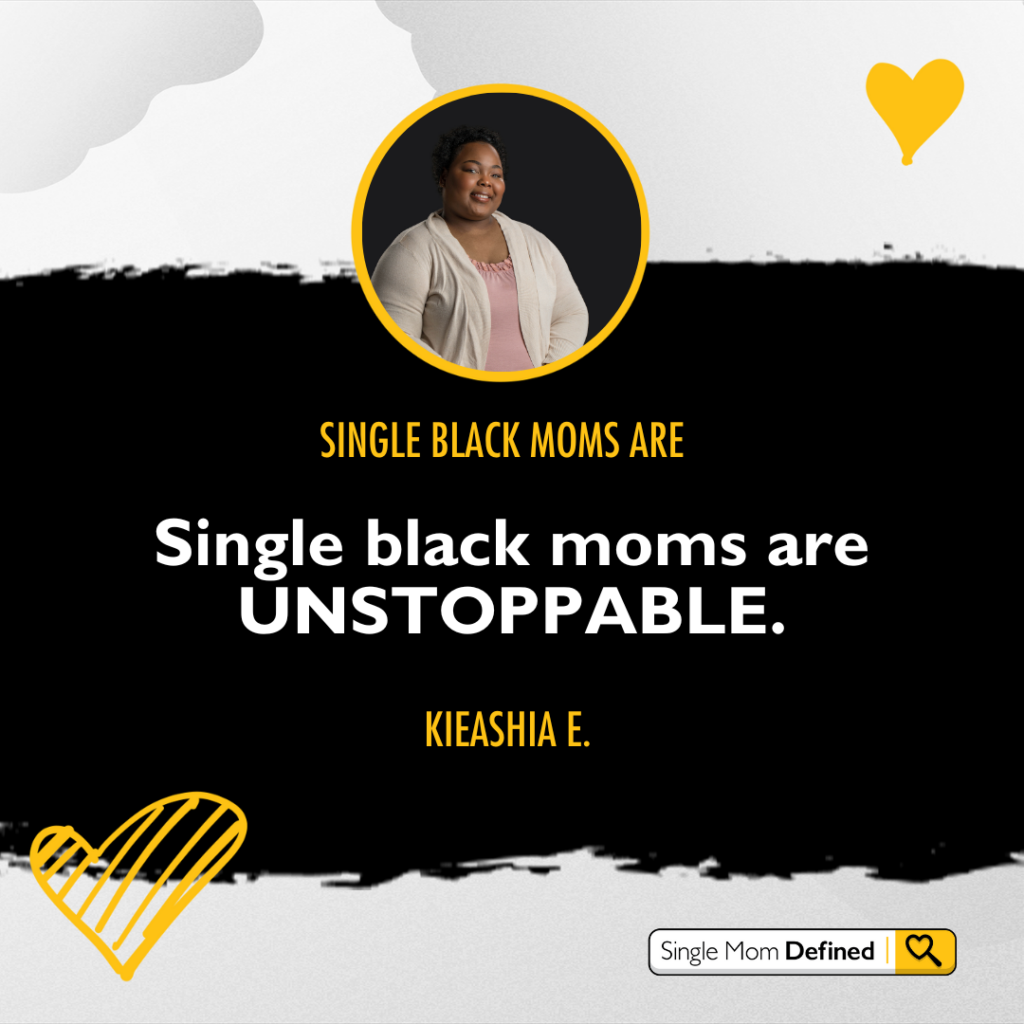 "Single black moms are UNSTOPPABLE." 
Protecting Our Peace
It's vital that we rewrite the misguided narrative about Black parenthood and positively uplift each other while practicing self-love and taking small actions every day to care for our mental health. How we see and treat ourselves affects our emotional well-being. It can manifest in sickness in our physical bodies and keep us from being focused at work. Most importantly, it can keep us from being the best mothers we can be. Leading a life that's a positive example will set the stage for how our children experience themselves. 
"Single Black moms are determined and often selfless. Single Black moms often have to put the needs of their families before their own needs. Single Black moms are some of the hardest-working women in the world." – Christina R.
Here at Single Mom Defined, we want to share information and resources. We are your cheerleader when looking for ways to do better for yourself and your family. If you're a single Black mom, you can look to the Single Mom Defined website and community for the physical resources and mental confidence boost you need while finding your way through unpartnered or co-parenting.
"Powerful, resourceful, audacious, innovative nurturers, master builders, and a cornerstone in society! If you google Black women entrepreneurs, we have risen 114% from 1997 to 2017. We face obstacles so much more than our counterparts and still succeed as only a strong Black woman could." – Anonymous
Whether you are a newly single mom or have been thriving in single motherhood for a while, we encourage you to define what it means to be a single Black mom. Regardless of what society, your former partner, your family, or even the internet may say, you are a superhero!
Now, fill in the blank for yourself, Mama: "Single Black Moms are _______."
Let us know your answer in the comments!
---
Kim M. Barfield is a Maryland-based mom of two, a freelance writer, and an editor with a penchant for beauty, style, home, and parenting topics. She's written for websites including Madame Noire, Curly Nikki, and Reflect Beauty; and has been featured at PopSugar Select Fashion and Essence.com. Connect with her on social media @KimBarfieldStyle.
All author posts