Sharing responsibility as a single father means not burdening the mom and showing my daughters that their dad is responsible.
Jason Flowers is a single dad of two, a business broker, and a nonprofit consultant specializing in fundraising and development. Jason loves spending time with his daughters and, in his downtime, enjoys playing pool and relaxing after a long day at work. We asked Jason to share his story, advice, and more for Single Dad Defined.
Single Dad Jason Flowers
How did you become a single father?
Divorce. I have two daughters, 15 and 12 years old. Unfortunately, I do not have a positive co-parenting relationship. I have about 45% of custody. It was hard to get 50%. Once I left the house, I knew I needed to bear at least half of the responsibility of the girls because that was what I signed up for. I didn't want to be an every-other-weekend parent. I knew some roles had to switch in some cases, and I was fine with that.
Finally, I gave in and ended the fight for 50%. We presented the agreement to the judge, and he said I was lucky that she gave me that much time with the kids. I have been stereotyped in the judicial system. There is an expectation that the mother should be the main one responsible for taking care of children. And that the only thing a father can provide and be judged on is his ability to pay child support.
I don't communicate or have a relationship with my daughter's mother. I think it's because I asked for a divorce. We don't talk about our children's schooling or even their health. We operate in a parallel parenting environment.
What's one word to describe single Black fathers?
Unrecognized
Why is it important to share positive stories about single Black fathers?
Positive stories about Black fathers help to remove stereotypes about the significance of a Black male figure in the household. Unforgiving moms can reinforce the stereotype, because of anger. Instead of being an exception, we will be considered the norm.
What misconceptions do people have about single fathers?
We do not want to care for the kids or aim to be a weekend parent. Our only contribution or preferred way of taking care of our kids is financial.

What is the best part of being a single dad?
The best part is I feel a sense of accomplishment that I was able to find time to share responsibility and not put that burden on the mom so she can have a life as well. It also shows my children that a dad needs to share responsibility.
What is the hardest part about being a single dad?
The hardest part is not having the support system that moms or women have for each other. I had to change careers, because I have to pick up kids early in the afternoon, etc., with little support. Men are not good at asking for help, so we lack a support network.
Why is it important for single fathers to be active in the lives of their children? Please share some ways you spend quality time with your child and the lessons children learn from their fathers.
Being active is super important, because it builds confidence in children. My children know the efforts I take to be with them and provide them wisdom, and they take that wisdom knowing they can call their mom or me and know both parents can protect them.
We go somewhere most weekends when it is nice to explore new things and sometimes go on hikes. I take them to dinner for their birthdays individually, and they write down their goals for the year. They learn empathy and forgiveness. Spending time with their dad also reassures them that he cares for them.

What are the things you and your daughters enjoy doing the most?
Our best times together are when we intentionally have a "gourmet" meal at home or a restaurant preferably. We call them daddy-daughter dinners, and sometimes they turn into daddy-daughter days. When we have these dinners once or twice a month, we sit down and talk about everything. It is a great form of transparent communication where we laugh, talk, and learn from each other. It is a magical moment. These dinners last 3-4 hours at home or a "fancy restaurant." This act has opened communication channels between my daughters and me that I would never have imagined.
What advice would you give a single mother to help her heal from a bad breakup and have a positive co-parenting relationship with her ex?
In most cases, both parents equally have the well-being of the kids at the forefront of every decision. Dad wants to figure it out and help. Be open to working together.
What advice do you have for other single dads?
One main reason you should aim to have more time with your kids is that you must share responsibility. When dads are present, you get to notice the confidence and security your kids have. They develop this security because they know someone other than their mother has their back. I watch my daughters fend for themselves and be able to stand for themselves on many fronts, because they know they have that security. They use the tactics you impart to them through your wisdom. Your kids will take on your good traits and standards of excellence and integrity.
Any advice for dads that may be starting the single-parent and co-parenting journey?
The well-being of your kids is so important. Removing negative emotions and egos about the other parent is important, because the children will naturally be affected by those if they are present. Do your part to combat or prevent it from affecting your relationship with your children.
The courts may seem biased against dads. That is acknowledged throughout the court system, and changes are being made to be fair. Dads tend to give up or may have normal behaviors that would have them give in. Hang in there, and be bold about your rights as a parent and an equal contributor to your child's livelihood. We tend to be quiet and not be controversial in court. You must speak up and loudly share your desires, care, and concern for your children. They will then hear and respond accordingly.
Tell us what you do for self-care.
I love to cook. That calms my soul while trying to perfect a recipe I got from All Recipes or a TikTok video. I also enjoy hanging out at my favorite cigar lounges and hanging out with friends while having meaningful conversations.
Single Dad Jason Flowers is the first dad to be featured for Single Dad Defined. All thoughts and words are his own. Stay tuned for more Single Dad stories are we work to combat negative narratives about single parenting and aim to mend relationships between co-parents. Want to share a single dad story? Complete our survey!
---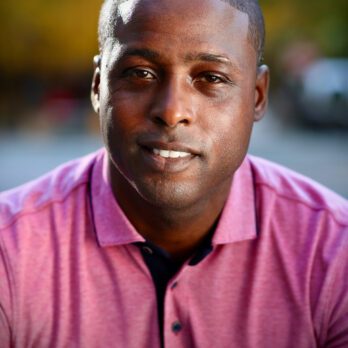 Jason Flowers is the Business Intermediary for Murphy Business Sales, one of the largest and most successful business brokerage firms in North America. Jason brings incredible passion and a wealth of knowledge after serving in multiple executive roles along the east coast, including a 14 year career with the Boy Scouts of America. Jason received his Bachelors in Business Administration from SUNY Plattsburgh college. In his spare time, Jason helps nonprofits, serves on the Kingsley Association Board of Directors, and individually coaches people on networking. Jason lives in Pittsburgh with his two infectious daughters.
All author posts