As single moms, support often comes in the form of words. Words that encourage, words that motivate, words that remind you that you're not alone. That's why Single Mom Defined launched our Book Club, in partnership with Carnegie Library. Each quarter, moms read a book and meet online or in person to discuss it. I invite you to join the club! It's a great way to start the New Year and get in some much-needed self-care. 
As I embark on 2023, many things come to mind, such as spending time with family and friends, counting my blessings, and making resolutions. My top priority is obtaining inner peace, and with that comes self-care. Self-care is essential and can set the tone for an amazing year. One of the ways I get self-care is by reading. 
Reading is Self-Care 
There are so many reasons why I love to read that I can not imagine life without books. Reading can immerse you into another world, all while you are sitting in your living room. It reduces stress, enhances social skills, improves sleep, slows cognitive decline, and boosts intelligence. 
When I read, I set the scene. I often pour a glass of wine or brew a cup of tea, make a snack, and put on my fuzzy robe. You can also light a candle, diffuse essential oils, take a bubble bath, or turn off your phone's notifications. 
Reading with friends and discussing the details of the book is something else I enjoy. Once we chat about the characters and plot, we talk about how our personal experiences connect to the book. It is such a great way to bond and spend time together.  

Single Mom Defined Book Club
My only struggle with reading is picking a book because there are so many great titles to choose from. Single Mom Defined's book club does the work for me! 
Single Mom Defined's next book club pick is Hold You Down by Tracy Brown. Tracy Brown is the Essence bestselling author of Aftermath, Snapped, Twisted, White Lines, and Criminal Minded. According to the author, Hold You Down is a story that examines the ways that family loyalty can be a gift and a curse. It's about choices and how the decisions of parents affect their children. Sonya, founder of Single Mom Defined's Book Club, and I can definitely relate to the story. The two main characters are raising teenage boys. 
To join the club, be sure to sign up for the Single Mom Defined Book Club Newsletter to receive meeting invitations. Then, visit the Carnegie Library of Pittsburgh and check out Hold You Down by Tracy Brown. Inquire about not only physical copies but audio versions as well. Listening to the book may be a better fit for your schedule.
Book Club Meetings
Our first meeting will occur on Zoom on Sunday, February 19th at 1PM. Meeting Details: 
https://us02web.zoom.us/j/82185245073?pwd=dDdNaG41T3dOdWN4VzRBYnlDOTVCUT09
Meeting ID: 821 8524 5073
Passcode: 974479
We will discuss the first half of the book. You'll have a chance to win a gift card for the Books and Brunch restaurant in March! We'll also continue the conversation in our private Facebook group. 
For the second meeting, plan to finish the book and then meet us at Books and Brunch at Tupelo Honey Southern Kitchen and Bar on March 19, 2023, from 1-3 PM. We'll talk about the book and enjoy each other's company, food, and drinks. Plus, you'll get a chance to win prizes. Everyone who registers in advance will take a swag bag. 

More Great Books To Start Your Year
If the book mentioned above doesn't spark your interest, then check out my top five picks for books by female authors that will kick your New Year's Resolutions into overdrive.
Speak: Find Your Voice, Trust Your Gut, and Get from Where You Are to Where You Want to Be by Tunde Oyeneyin. The author takes you through each step of the SPEAK acronym—Surrender, Power, Empathy, Authenticity, and Knowledge. Oyeneyin shares the lessons she has learned about loss, love, and body image and how she has successfully created an intentional, joyful life for herself, offering an accessible blueprint for anyone looking to make a positive change in their lives.
Why Has Nobody Told Me This Before? by Dr. Julie Smith. Dr. Julie Smith has years of experience as a clinical psychologist and provides the skills you need to navigate everyday life challenges while taking charge of your emotional and mental health. 
More Than Enough: Claiming Space for Who You Are (No Matter What They Say) by Elaine Welteroth. The book was the winner of the  2020 NAACP Image Award for outstanding literary work-biography/autobiography and is being considered to be developed as a TV series by Paramount Television Studio and Anonymous Content. This is a must-read because she unpacks race, identity, and success lessons through her many journeys. 
Girl, Wash Your Face: Stop Believing the Lies About Who You Are So You Can Become Who You Were Meant to Be by Rachel Hollis. This #1 New York Times Bestseller is a must-read because the author exposes the twenty lies and misconceptions that too often hold us back from living joyfully and productively lies we've told ourselves so often we don't even hear them anymore.
Everything Is Figureoutable by  Marie Forleo.  This book is unlike other self-help books that offer quick fixes, the author aims to retrain your brain to think more creatively and positively in the face of setbacks.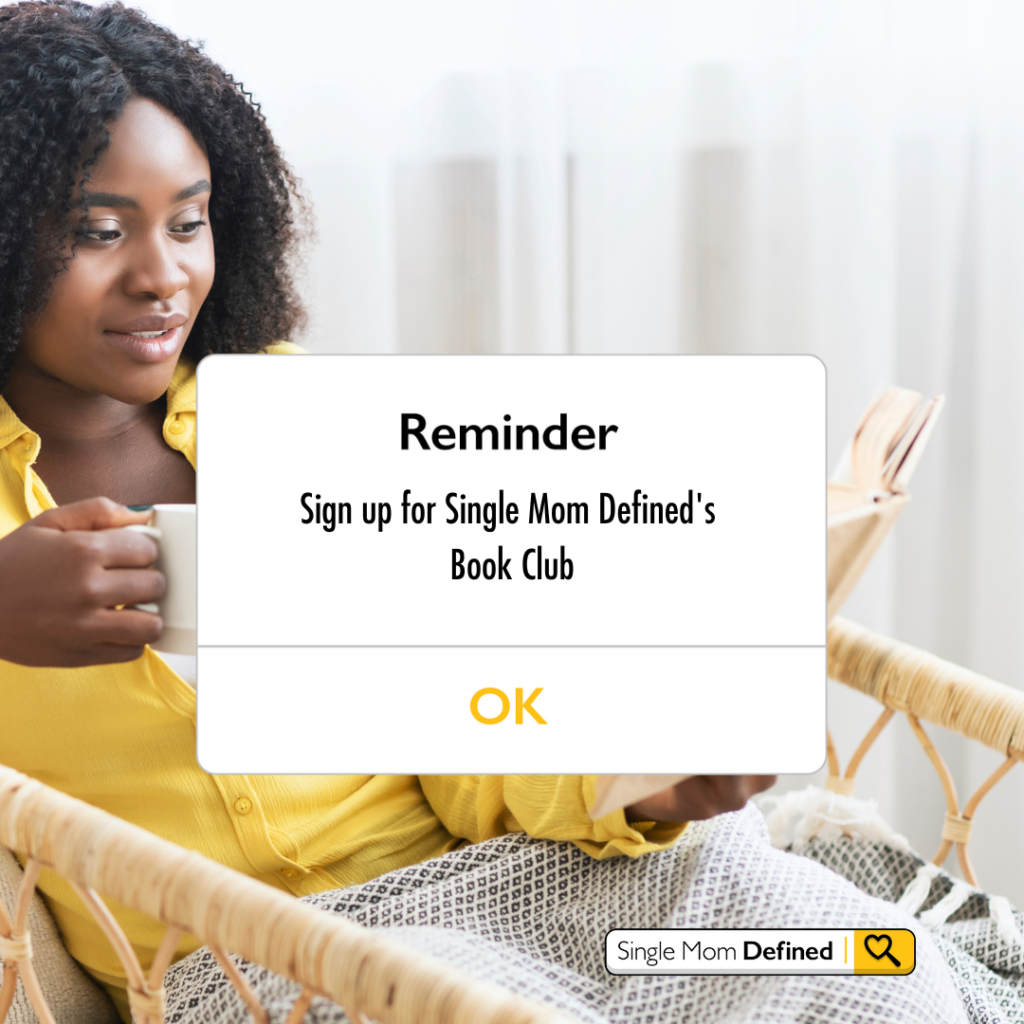 If you plan to skip reading this month's title but you're interested in joining us at a later time, don't forget to sign up for the Single Mom Defined Book Club Newsletter to stay up to date on all things book club. Until then, check out other titles and attend events at your local library branch. Be on the lookout for a Carnegie Library of Pittsburgh Guide, which is being mailed to thousands of households across the county. You can read the guide online.