As single moms, support often comes in the form of words. Words that encourage, words that motivate, words that remind you that you're not alone. That's why Single Mom Defined launched our Book Club in partnership with Carnegie Library. Each quarter, moms read a book and meet online or in person to discuss it. I invite you to join the club! It's a great way to get some much-needed self-care. Keep reading to find out more about our next book club pick: The Other Black Girl 
As I get ready for the spring season, I make a plan to spring clean my house and plan my spring and summer activities.  For me, the season is filled with my son's high school graduation, prom, graduation party, vacations, and many other activities. In the midst of my son's busy schedule, I must remember to carve out time for myself to include self-care activities. 
Spring cleaning is not just for the home. Psychologists also suggest spring cleaning your mental health and decluttering your brain. Socializing with friends and family is recommended by doctors to have healthy psychological health.  Not only do I get to read a book and then chat about it with my friends, but I'm also spring-cleaning my brain and improving my psychological health.  
One of my favorite self-care activities is spending time with friends and I enjoy reading so joining a book club is a win-win. 

Book Club Pick: The Other Black Girl 
Our next book selection is The Other Black Girl by Zakiya Dalila Harris. The book was ​​Named Best Book of 2021 by Time, The Washington Post, Esquire, Vogue, Entertainment Weekly, The Boston Globe, Harper's Bazaar, and NPR. It's A whip-smart and dynamic thriller and sly social commentary that is perfect for anyone who has ever felt manipulated, threatened, or overlooked in the workplace, The Other Black Girl will keep you on the edge of your seat until the very last twist.
Grab the book and meet us at the Carnegie Library of Pittsburgh Squirrel Hill branch on June 25, 2023, at 1 PM for Books, Boards, and Blankets. We will discuss The Other Black Girl and then have a picnic at Frick Park located
2005 Beechwood Blvd, Pittsburgh, PA 15217
Mental Health Spring Cleaning With Books
This spring, I'm also looking forward to spring cleaning my mental space, so check out some books that will guide you to do just that.
Prioritize your well-being with these 150 self-care exercises. Designed specifically to help Black women revitalize their outlook on life, improve their mental health, eliminate stress, and self-advocate. It's tough to prioritize physical and mental wellness as a Black woman, especially with a constant news cycle highlighting Black trauma. Now, with The Self-Care for Black Women, you'll find more than 150 exercises that will help you radically choose to put yourself first. 
You, Happier: The 7 Neuroscience Secrets of Feeling Good Based on Your Brain Type
by
Daniel G. Amen,
MD
Dr. Daniel Amen reveals the seven neuroscience secrets to becoming more than 30 percent happier in just 30 days. Regardless of your age, upbringing, genetics, or current situation.  Creating consistent happiness is a daily journey. In You, Happier, Dr. Amen walks you through neuroscience-based habits, rituals, and choices that will boost your mood and help you live each day with clearly defined values, purpose, and goals.
Spring Into Your Mental Health Spring Cleaning Checklist
Let go of a grudge.

Forgiving yourself or someone else can help clear away negative energy, which leaves space for your brain to focus on more positive things in your life. 

Get rid of self-criticism.

Start by practicing by speaking positive affirmations in the mirror each morning.  Phrases like "I am loved"  or "I am enough" can breathe life into your soul and existence. 

Focus on your physical health.

Maintain your physical wellness and spring into the outdoors, and start exploring your neighborhood.  Start taking walks and learn how to connect with nature and unwind. Yoga and meditation is also a great way to cleanse your mind. 

Journal.

Writing down your thoughts is a great way to declutter and organize your thoughts, perfect mental cleansing.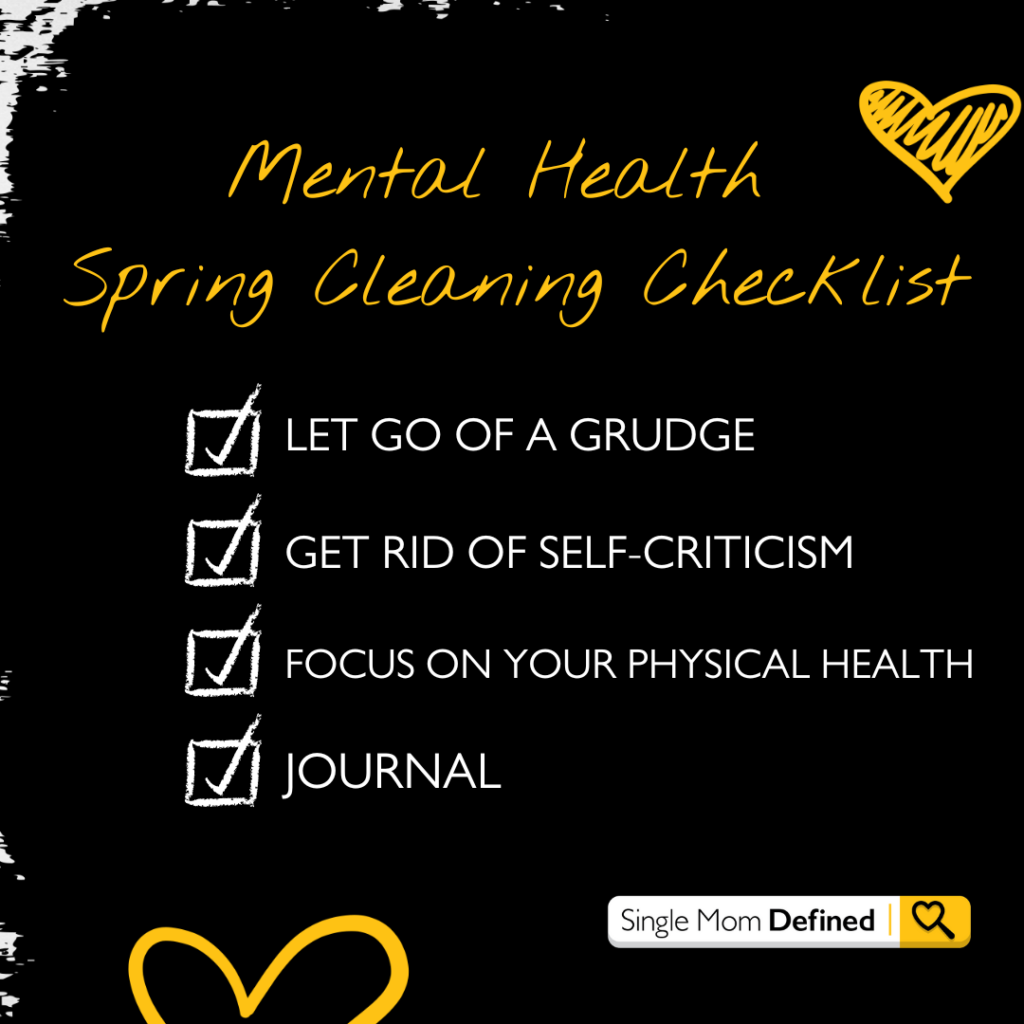 I challenge everyone to spring into life and join our book club that fosters self-care and me time. 
If you plan to skip reading this month's book club pick: The Other Black Girl, but you're interested in joining us at a later time, don't forget to sign up for the Single Mom Defined Book Club Newsletter to stay up-to-date on all things book club. Until then, check out other titles and attend events at your local library branch. Be on the lookout for a Carnegie Library of Pittsburgh Guide. You can also browse the CLP Events page.