Single Mom Defined's family is getting bigger! We're excited to announce the addition of our new baby–a podcast! The Single Mom Defined podcast will share stories from a single parent's perspective, in an authentic and culturally relevant way. Produced by and for single moms, the bi-monthly show will help control the narrative about Black single mothers and create supportive spaces for all single moms. Every other Wednesday, starting May 10th, guests will talk about everything from self-care and co-parenting to work and relationships. The podcast expands Single Mom Defined's brand, which already includes an art exhibit, website, and in-person platform. 
Single Mom Defined Podcast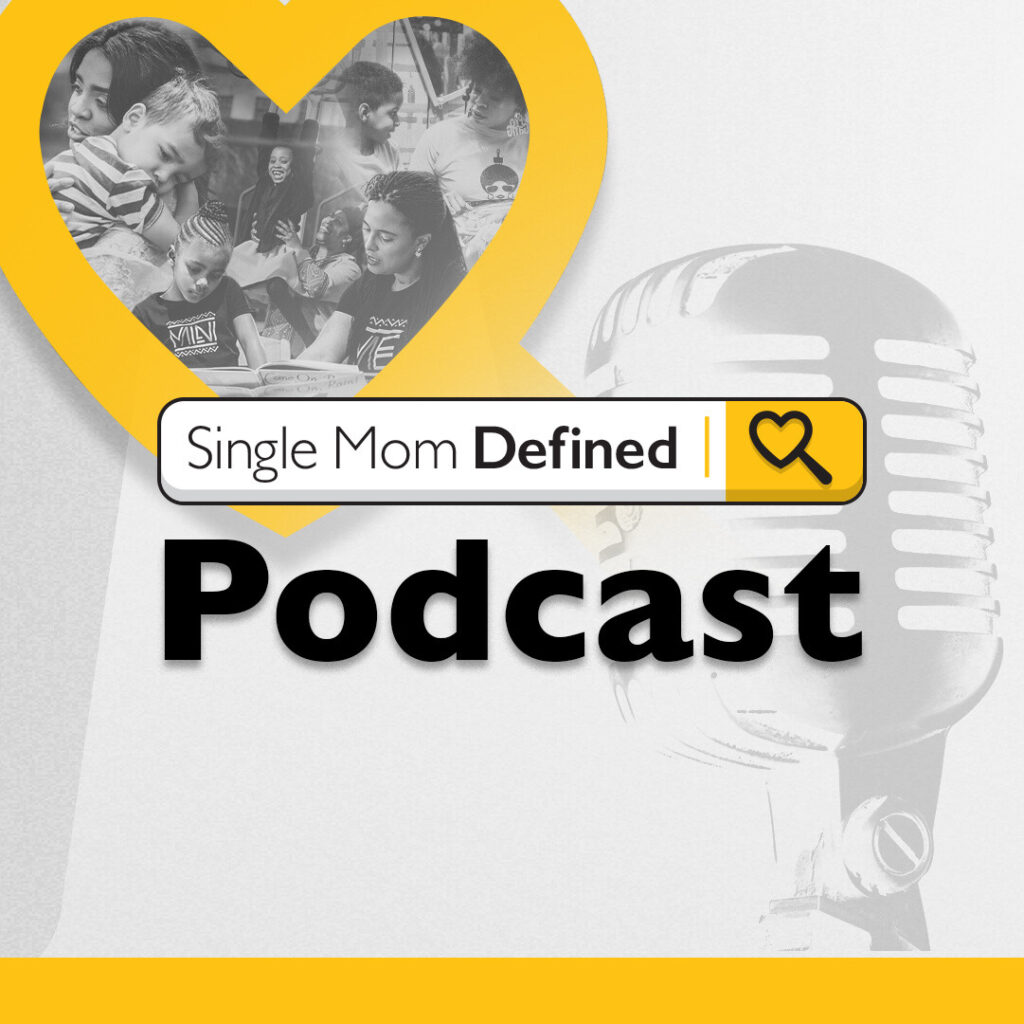 The podcast will debut on YouTube and almost everywhere podcasts are streamed, including Apple Podcasts, Spotify, Stitcher, Castbox, and Deezer. Listeners can also join the conversation on Single Mom Defined's social media channels, where they'll get exclusive clips and sneak peeks to upcoming episodes. 
Episode One Airs Wednesday, May 10
In the first episode, Host Heather Hopson will be joined by Dr. Rikell Ford and Fro Gang's Kelli Shakur, who share their stories about becoming single mothers. According to society, single Black mothers are monolithic; they're crammed into the same stereotypical storyline. But in reality, they each took a unique path to parenting. Some mothers ended relationships, exited abusive environments, adopted, divorced, or were widowed or abandoned. Some women are raising happy, healthy children with the children's fathers. The inaugural podcast will share why each story should be included in the larger conversation about raising America.
Episode Two Airs Wednesday, May 24
In the second episode, airing on May 24th, Heather, Kelli, and Rikell return to tackle the hurt experienced when they announced their pregnancies. Often, moms-to-be celebrate their pregnancy with glamorous photo shoots, over-the-top gender reveals, and huge baby showers. What should be a joyous time in a woman's life is sometimes a stressful season for single mothers. Perhaps her family isn't thrilled about the pregnancy. Maybe the father wanted her to get an abortion. Or maybe the mom doesn't have the money to prioritize a party. The second episode explores how society should stop shaming single mothers and start supporting them. Guests share not-so-positive pregnancy stories and give tips on how to push past a painful past and celebrate a hope-filled future.
Single Mom Defined History
The podcast builds upon the mission to elevate authentic and accurate stories about single Black moms.  Back in 2018, Motor Mouth Multimedia Founder and Nationally Award-Winning Writer Heather Hopson wondered what would come up if she Googled who she was. She typed "Single Black Mom" into the search bar, and horrible search results popped up on her screen, saying she was damaged goods, trash, and selfish. She asked herself, How does this shape someone's identity, impact their self-esteem or form others' opinions about you? Why aren't Black mom voices breaking through the negative news? She sought out these answers through Single Mom Defined, a photo essay and video series. Fifty mothers wrote a more accurate definition of single parenting, and more than 100 children described their moms using words like joyous, kind, phenomenal, and affectionate. 
When the exhibit was unveiled, Single Mom Defined surveyed 500 people who admitted to having negative perceptions about single mothers. After exiting the exhibit, 93% stated they now held positive attitudes toward single mothers. The exhibit inspired an online and in-person audience to elevate the voices of single mothers and redefine public perspectives. 
Become a Guest
You can help continue to rewrite our stories. Single Mom Defined is looking for guests for future shows. If you have an episode idea or would like to appear on the Single Mom Defined podcast, email us at hello@singlemomdefined.com. Got television or radio experience? We're also looking for co-hosts! Send us an example of your on-air work to be considered for this paid hosting gig. 
And be sure to subscribe to our YouTube channel, where our podcast goes live first. 
And, sign up for our e-newsletter. Each week, you'll receive an e-blast with the latest blog posts, events, podcasts, contests, and more!
---
Not long ago, Heather Hopson lived in the Cayman Islands and hosted a television show. Today, she's back home in Pittsburgh writing a different type of story as the founder of Motor Mouth Multimedia and Single Mom Defined. Utilizing more than a decade of television news reporting experience, Heather assembles teams to tell diverse stories, provide unique perspectives, and increase the visibility of important issues for local and national clients. In 2018, Heather, inspired by her daughter, produced Single Mom Defined, a photo essay and video series that provides a more accurate definition of single Black motherhood than the one society presents.
Heather obtained a BA in Journalism from Michigan State University, where she served as president of the Delta Zeta Chapter of Alpha Kappa Alpha Sorority, Inc.
All author posts