Do you believe you can go from pain to contentment through faith as a single mom? This is my story…
There comes a point in life when you must decide whether or not you should continue to hold onto something. At 17, I found myself pregnant by a man I had only known for five months. We didn't even make it as a couple while I was pregnant. He left and continued his service in the military. At times, he gave me false hope that we would one day be a family. I wrote letters, sent pictures and baked cookies to encourage him through boot camp and his time abroad. I spent time making sure that our son knew who his father was, so he would admire and love him the moment that he walked back in the door.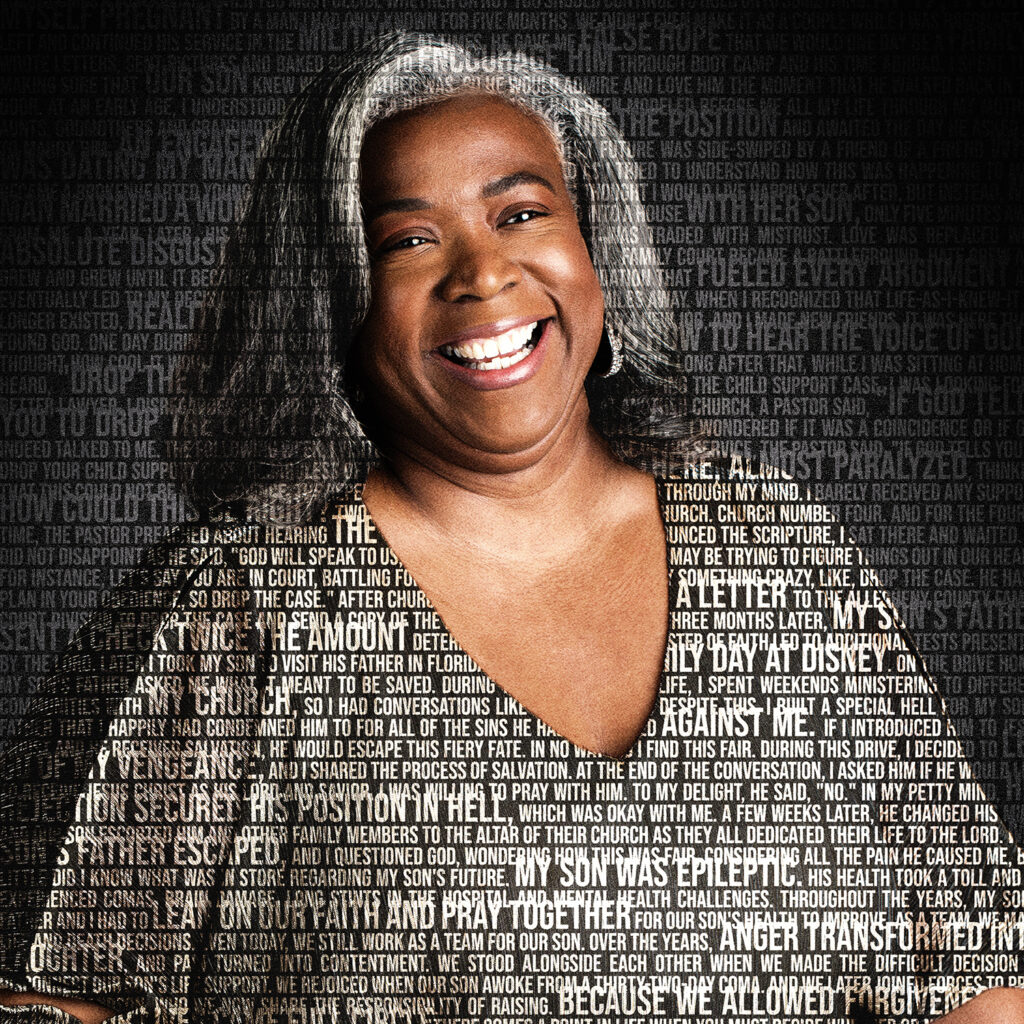 At an early age, I understood the role of a dutiful wife as it had been modeled before me all my life through my mother, aunts, godmothers and grandmother. I was ready to take on the position and awaited the day he asked me to marry him.
An engagement never occurred. That future was side-swiped by a friend of a friend who was dating my man. My dream of marriage abruptly ended as I tried to understand how this was happening to me. I became a brokenhearted young mother whose future went up in smoke.
I thought I would live happily ever after, but instead, my man married a woman in the military. They moved into a house with her son, only five minutes away from me. A year later, his wife gave birth to another son. My trust was traded with mistrust. Love was replaced with absolute disgust. Family time was spent in family court. Family court became a battleground. 
Hate grew and grew and grew until it became an all-consuming emotion. It was the foundation that fueled every argument and eventually led to my decision to move with my son. I accepted a job 1,000 miles away.
The Path From Pain To Contentment Through Faith
When I recognized that life-as-I-knew-it no longer existed, reality sunk in. I was alone in a new town. But I had a new job, and I made new friends. It was here that I found God. One day during a church service, the pastor taught us how to hear the voice of God. I thought how cool it would be if God talked to me as I sat in that service. It wasn't long after that, while I was sitting at home, I heard, "Drop the court case." At the time, I had no plans of dropping the child support case. I was looking for a better lawyer. I disregarded the thought and kept it moving.  
Soon after, at another church, a pastor said, "If God tells you to drop the court case, drop the court case." I wondered if it was a coincidence or if God indeed talked to me. The following week, I visited another church. In the middle of the service, the pastor said, "If God tells you to drop your child support case, regardless of what you think, drop it."
I sat there, almost paralyzed, thinking that this could not be a coincidence. The repercussions of dropping the case raced through my mind. I barely received any support. How could this be right?
Two weeks later, I went to my friend's church. Church number four. And for the fourth time, the pastor preached about hearing the voice of God. After he announced the scripture, I sat there and waited. He did not disappoint as he said, "God will speak to us, and at times we fail to listen. We may be trying to figure things out in our heads. For instance, let's say you are in court, battling for money due to you. He might say something crazy, like, drop the case. He has a plan in your obedience, so drop the case."
After church, I went home and wrote a letter to the Allegheny County Family Court Division to drop the case and send a copy of the letter to my son's father. Three months later, my son's father sent a check twice the amount determined by the courts! 
That step of faith led to additional tests presented by the Lord. Later I took my son to visit his father in Florida, and we spent a family day at Disney. On the drive home, my son's father asked me what it meant to be saved. During that season of my life, I spent weekends ministering to different communities with my church, so I had conversations like this regularly. 
I Found God But I Was Still Angry
Despite this, I built a special hell for my son's father that I happily had condemned him to for all of the sins he had committed against me. If I introduced him to Jesus Christ and he received salvation, he would escape this fiery fate. In no way did I find this fair. During this drive, I decided to let go of my vengeance, and I shared the process of salvation. At the end of the conversation, I asked him if he would like to receive Jesus Christ as his Lord and Savior. I was willing to pray with him. To my delight, he said, "No." In my petty mind, his rejection secured his position in hell, which was okay with me.
A few weeks later, he changed his mind, and our son escorted him and other family members to the altar of their church as they all dedicated their life to the Lord. My son's father escaped, and I questioned God, wondering how this was fair, considering all the pain he caused me, but little did I know what was in store regarding my son's future. 
Contentment
My son was epileptic. His health took a toll and he experienced comas, brain damage, long stints in the hospital and mental health challenges. Throughout the years, my son's father and I had to lean on our faith and pray together for our son's health to improve. As a team, we made life and death decisions. Even today, we still work as a team for our son. Over the years, anger transformed into laughter. Our story went from pain to contentment. We stood alongside each other when we made the difficult decision to disconnect our son's life support. We rejoiced when our son awoke from a thirty-two-day coma. And we later joined forces to pray for our grandson, who we now share the responsibility of raising. Because we allowed forgiveness to reign, our lives came full circle. 
By: Diane Day
Read more of our Personal Essay Series.