This post about Smithsonian Channel's Black in Space: Breaking the Color Barrier is a sponsored post brought to you by Comcast. The opinions are completely my own based on my experience.
Comcast is celebrating Black History Month with the Smithsonian Channel Documentary Black in Space: Breaking the Color Barrier. The documentary premiered at the Senator John Heinz History Center on February 10th. It will air on Xfinity later this month. 
I was one of the first people to see the story. I got to meet Kelli Herod, Vice President of Post Production at the Smithsonian Channel. As a former TV reporter and producer, I am always thrilled to meet Black women in executive positions. Representation matters when it comes to telling our stories! I'm also excited when I learn new things about our rich history, like the Black astronauts who changed the course of our country.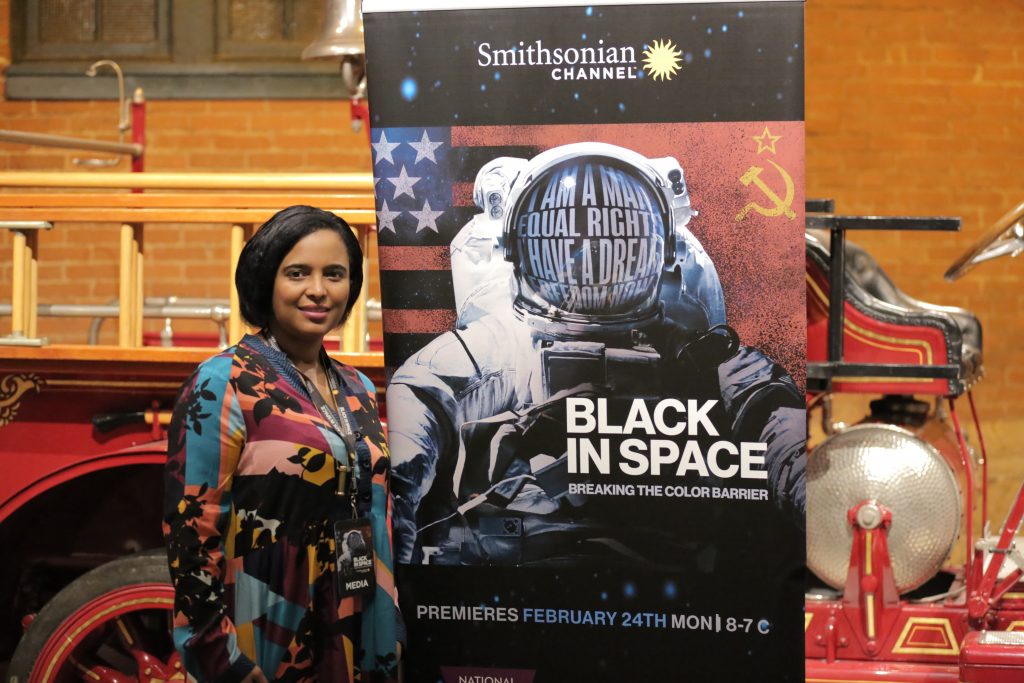 The documentary propels the first black astronauts into the spotlight—right where they belong—and tells the fascinating story of the race to bring diversity to the skies. Pittsburghers were amongst the first to watch this journey during a private screening.
Following the documentary, KDKA-TV's Lisa Washington moderated a panel discussion with Kelli Herod, Vice President of Post Production for Smithsonian Channel and retired Major General Charles F. Bolden Jr., the 12th NASA Administrator, appointed by President Barack Obama. Herod and Bolden gave the audience a first-hand account of the movie's research process and NASA's challenges in developing a diverse candidate pool for the space program.
The premiere of Black in Space: Breaking the Color Barrier is just one example of the diverse programming on Comcast. This month, Comcast curated a bookmark on the X1 platform, which allows viewers to easily find documentaries, sports, music, movies and more celebrating Black history and culture. 
For the second year in a row, from Feb. 10th – 16th, Comcast will offer free, premium content, including hit shows, like Prejudice Atlanta, Hitsville: The Making of Motown, Butter & Brown, Good Hair, and A Black Lady Sketch Show. The Black Film & TV collection offers Black History Always On, featuring the Voices of the Civil Rights Movement series, which expanded again this year with 10 new interviews with civil rights leaders and community activists. Just say, "Black Film and TV" or, "Black History Month" into your Xfinity Voice Remote to get started. There's still time to get hooked up! Comcast recently expanded its number of retail Xfinity Stores. Visit https://westernpa.comcast.com to learn more about X1 TV, Xfinity Internet, Xfinity Home and Xfinity Mobile.
Black History matters, not just in February but all year round.  Comcast is committed to making information not only available but also accessible through its Internet Essentials program. Visit www.internetessentials.com to sign up for low-cost, high-speed Internet!   
#BlackinSpace #BlackHistoryMonth 
Photo Credit: Brian Cook, Motor Mouth Multimedia/Golden Sky Media
---
Not long ago, Heather Hopson lived in the Cayman Islands and hosted a television show. Today, she's back home in Pittsburgh writing a different type of story as the founder of Motor Mouth Multimedia and Single Mom Defined. Utilizing more than a decade of television news reporting experience, Heather assembles teams to tell diverse stories, provide unique perspectives, and increase the visibility of important issues for local and national clients. In 2018, Heather, inspired by her daughter, produced Single Mom Defined, a photo essay and video series that provides a more accurate definition of single Black motherhood than the one society presents.
Heather obtained a BA in Journalism from Michigan State University, where she served as president of the Delta Zeta Chapter of Alpha Kappa Alpha Sorority, Inc.
All author posts