Three years ago today, police shot and killed my 20-year-old cousin. The bullets pierced his body and our family's hearts. I remember reading a newspaper where a witness stated that after the body fell to the ground and the last breath escaped into the air, officers patted each other on the back for a job well done. Those pats felt like stabs for my cousin's mother. Because no matter if her son broke the law or not, his death was not something to celebrate. A few days later, I performed his eulogy. As a former television reporter, I often landed that job. Death wasn't new to our family–we buried grandparents, aunts and uncles. But we never said our final goodbyes to someone who wasn't even legal. I felt confused and broken reading the sympathy cards, wondering where things went wrong.
When we heard the news of Antwon Rose, an unarmed 17-year-old boy shot in the back as he ran away from East Pittsburgh police this week, it ripped apart the wounds of many mothers, still grieving their sons who fell to gun violence. I cried tears for a boy I never met but a boy who was a reflection of my 13- and 15- year-old nephews. Nephews who make stupid decisions all the time, not because they aren't smart, but because they are teens–living and learning. I struggle to explain to them that they live in a world where a mistake isn't a lesson rather a death sentence.  A world where the color of their skin could be the difference between their parents bailing them out of jail or burying them in a coffin after a traffic stop goes horribly wrong. It angers me to say in one sentence they are equal, and in the next, that they must follow a different set of rules. I'm at a loss for words at times. So, I asked members of the Single Mom Defined Facebook community what they are saying to their children.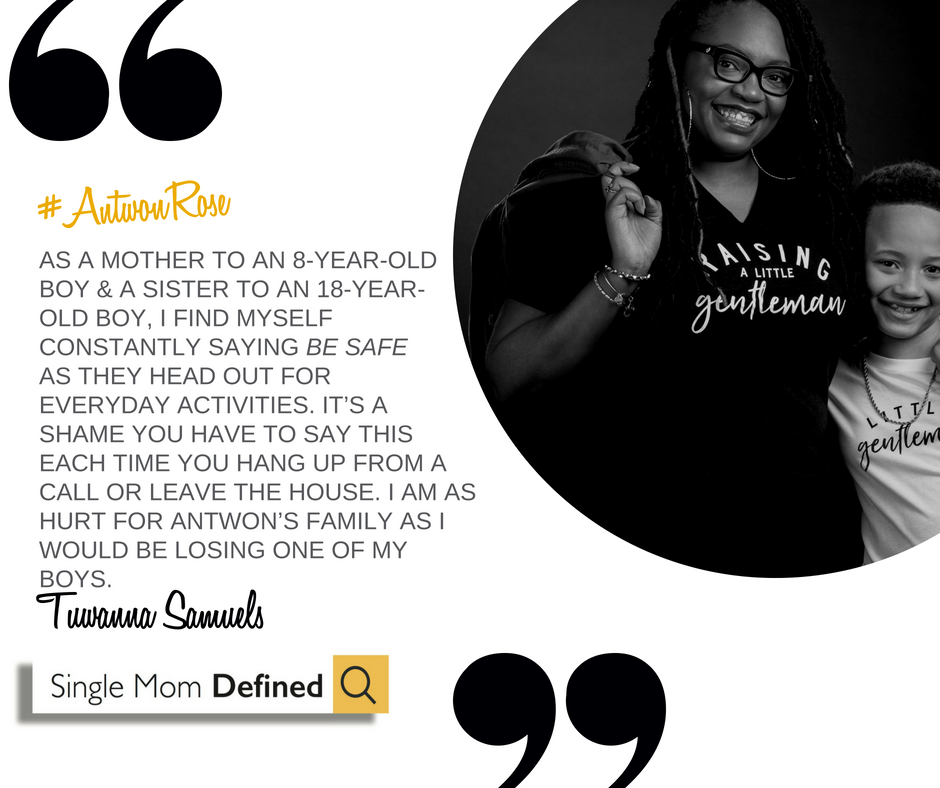 So what do we say to our children? How do we heal our families? You can continue the conversation on Facebook in our group, Single Mom Defined.
---
Not long ago, Heather Hopson lived in the Cayman Islands and hosted a television show. Today, she's back home in Pittsburgh writing a different type of story as the founder of Motor Mouth Multimedia and Single Mom Defined. Utilizing more than a decade of television news reporting experience, Heather assembles teams to tell diverse stories, provide unique perspectives, and increase the visibility of important issues for local and national clients. In 2018, Heather, inspired by her daughter, produced Single Mom Defined, a photo essay and video series that provides a more accurate definition of single Black motherhood than the one society presents.
Heather obtained a BA in Journalism from Michigan State University, where she served as president of the Delta Zeta Chapter of Alpha Kappa Alpha Sorority, Inc.
All author posts