As single moms, support often comes in the form of words. Words that encourage. Words that motivate. Words that remind you that you're not alone. That's why Single Mom Defined launched a free 24/7 motivational hotline for single moms. 
Call 800-346-0380
If you're stressed out about bills, overwhelmed about your laundry list of chores, anxious about an upcoming custody case, or need a pick me up, so you don't give up, give us a call! 
Single Mom Defined will share a new motivational message for single mothers in our village every two weeks. You can call our 800-number anytime to listen to an inspirational recording by single moms like you. Perhaps the mom will recite a poem and share why she selected the piece. Or, maybe she will share a testimony about how she found the strength to overcome an obstacle as a single mother. Or perhaps she'll talk about a playlist that motivates her to keep pushing toward her goal. Moms will sing songs, share meditations, recite prayers, or record original messages they think will resonate with our moms. 
Join The Single Mom Motivational Hotline
If you want to submit a recording, please email us at hello@singlemomdefined. Let us know what you would like to share. Or tell us how the motivational message brought joy to your day.
Single moms need to cheer each other on as they walk along their parenting journey. Raising healthy, happy, and whole children is challenging to do – single or married! So we need regular reminders that we are doing a great job and can get help if we ever need it.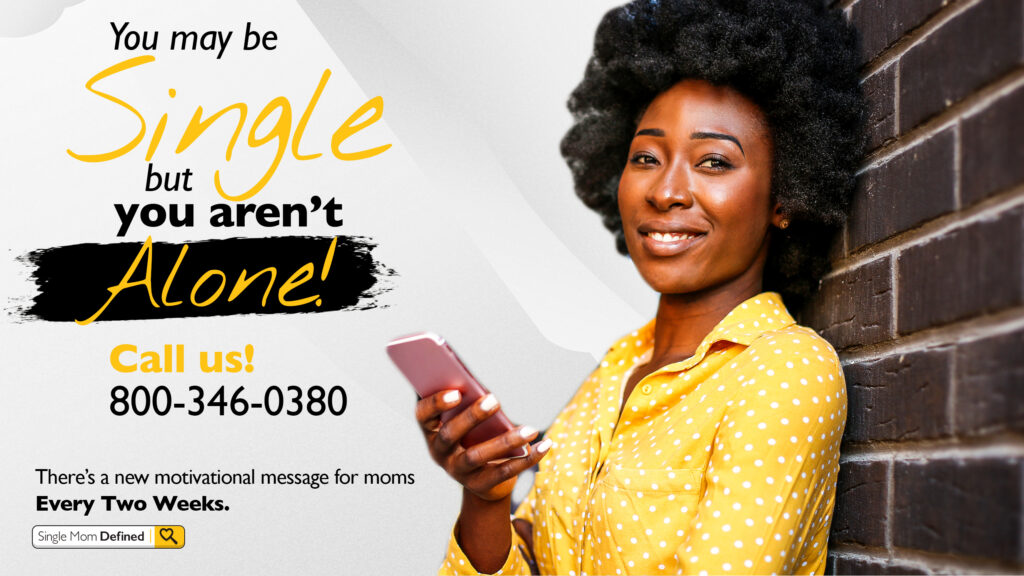 More Resources from Single Mom Defined
In addition to the motivational messages, moms can feel supported in other ways through our programming offerings. 
Join our

Facebook Group

: Connect to other single moms and resources to help your family thrive in our private Facebook group.

Form a Babysitting Cooperative: Inspired by the African proverb, "It takes a village to raise a child," babysitting co-ops provide mothers temporary relief to address personal needs, such as sleep and medical treatment. Single Mom Defined created a toolkit to arm you with everything you need to start a co-op. Click to access free Babysitting Cooperative downloads

.

Read a Book: Did you know that Single Mom, in partnership with Carnegie Library of Pittsburgh, formed a book club? Each quarter, moms read a book and meet online and in person to discuss it. A new title will be announced next month. Join the book club mailing list.
Meet Solo Moms: Solo moms, while considered single mothers, face unique challenges since their children's fathers are no longer in their lives for various reasons, such as death, incarceration, or abandonment. Solo moms host monthly meetings to connect with others facing the same circumstances and share resources. Stay tuned for our 2023 schedule! Join the Solo Moms mailing list

.

Coin Club: Parenting comes at a cost. Just how much money exactly? $235,000! That's how much a USDA government report found that a middle-income family spent over 17 years. The Coin Club provides resources to help single mothers identify money mistakes, eliminate debt, repair credit, generate wealth, and reach their financial goals. The first story in our monthly series goes live next week. Stay tuned.
We always want you to know that you may be single, but you are not alone! How are you motivating moms and creating supportive spaces?
---
Not long ago, Heather Hopson lived in the Cayman Islands and hosted a television show. Today, she's back home in Pittsburgh writing a different type of story as the founder of Motor Mouth Multimedia and Single Mom Defined. Utilizing more than a decade of television news reporting experience, Heather assembles teams to tell diverse stories, provide unique perspectives, and increase the visibility of important issues for local and national clients. In 2018, Heather, inspired by her daughter, produced Single Mom Defined, a photo essay and video series that provides a more accurate definition of single Black motherhood than the one society presents.
Heather obtained a BA in Journalism from Michigan State University, where she served as president of the Delta Zeta Chapter of Alpha Kappa Alpha Sorority, Inc.
All author posts